InCorona Premier Listing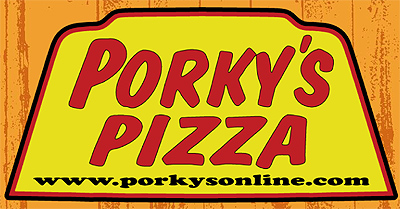 PORKY'S PIZZA
"2 Locations In Corona"
Porky's Pizza provides customers with a unique high-end pizza AND the fast delivery service they deserve.

Porky's Pizza uses top grade ingrediants and our hand preparation and fast delivery to exceed the expectations of our customers! Our goal is to make sure you are completely satisfied with your order.



Porky's Pizza
(951) 898-0555
1240 East Ontario Avenue Map
Suite 103
Corona, CA 92881


Porky's Pizza
(951) 371-9713
2210 Griffin Way Map
Corona, CA 92879



---
Directory
BJs Restaurant and Brewhouse
(951) 271-3610
Local Online Guide
2520 Tuscany Street Map
Corona, CA 92881

Chuck E Cheese's
(951) 279-9903
191 North McKinley Street Map
Corona, CA 92879

Dalia's
(951) 279-9988
1411 Rimpau Avenue Map
Suite 104
Corona, CA 92879

Dominos Pizza
(951) 737-9000
469 Magnolia Avenue Map
Suite H3
Corona, CA 92882

Graziano's Pizza
(951) 734-8500
333 Magnolia Avenue Map
Corona, CA 92879

Lamppost Pizza
(951) 371-1471
300 N Main Street Map
Corona, CA 92880

Little Caesars Pizza
(951) 272-4050
1501 Rimpau Avenue Map
Suite 102
Corona, CA 92881

Marcello's Pizza
(951) 734-8003
2085 River Road Map
Suite D
Norco, CA 92860

Marcello's Pizza
(951) 736-9936
691 S Main Street Map
Corona, CA 92882

NYPD Pizza
New York Pizza Dept
(951) 493-6789
Local Online Guide
2279 Eagle Glen Parkway Map
Suite 105
Corona, CA 92883

Oggi's Pizza and Brewing Co
(951) 817-0748
2363 California Avenue Map
Suite 105
Corona, CA 92881

Papa John's Pizza
(951) 582-9900
2310 California Avenue Map
Corona, CA 92881

Pizza Hut
(951) 272-1122
1075 West 6th Street Map
Corona, Ca 92882

Pizza Hut
(951) 808-8844
360 West Foothill Parkway Map
Corona, CA 92882

Porky's Pizza
(951) 371-9713
2210 Griffin Way Map
Corona, CA 92879

Porky's Pizza
(951) 898-0555
1240 East Ontario Avenue Map
Suite 103ect
Corona, CA 92881

Round Table Pizza
(951) 371-4841
813 North Main Street Map
Corona, CA 92880

Twisted Gourmet Restaurant
(951) 736-2035
490 Hidden Valley Parkway Map
Suite 103
Corona, CA 92879